Artega to begin serial production of the Microlino electric city car in Germany
Acquisition of manufacturing rights following the takeover of Tecno Meccanica Imola (Spa)

More than 10,000 pre-orders for the lightweight electric vehicle

Microlino has a wider range, is lighter and less expensive than comparable small electric cars

Production to begin in Delbrück in January 2019

Collaboration with paragon and Voltabox is currently being assessed
Delbrück, December 4, 2018. From January 2019 on, the car manufacturer Artega GmbH will begin serial production of the electric 2-seater Microlino in Delbrück. To date, more than 10,000 pre-orders have been placed for this small electric car with its cult status design, reminiscent of bubble cars from the 1950s. Artega's partner in this venture is the family-owned company Micro Mobility Systems AG from Küsnacht, Switzerland. Micro Mobility Systems developed the car together with Tecno Meccanica Imola (Spa) (TMI) from Imola, Italy, and is also responsible for marketing and service. Artega acquired TMI in November.
"The future of urban mobility is electric," says Klaus Dieter Frers, CEO of Artega GmbH. "For us, manufacturing the Microlino is an ideal entry point for this attractive market. The Microlino is affordable, has zero emissions, and can be charged from any household power socket. With his combination of modern technology and cult design from the 1950s, Wim Ouboter has created a genuine lifestyle brand. We look forward to beginning serial production of this lightweight vehicle in Germany."
"We're delighted to have gained Artega as our new partner for manufacturing our city car," says Wim Ouboter, founder and CEO of Micro Mobility Systems AG. "Artega has extensive expertise in developing and serially producing vehicles. Our new partnership will take the Microlino project to the next level. Europe has an excellent opportunity to show the world the way forward in urban mobility. Having successfully marketed electric kickboards for the last five years, this is our next important contribution to urban mobility."
The Microlino will be manufactured in a 3,000 m² factory hall in Delbrück-Hagen. The initial production capacity is planned to be 8,000 vehicles per year. In total, Artega will be investing around €3 million in the production halls and lines while creating around 50 new workplaces in Delbrück.
Measuring just 2.4 m in length and 1.5 m in width and featuring a front-entrance, the Microlino is particularly ideal in urban environments. Parking has never been easier. The vehicle is 50% lighter than comparable electric cars, an asset which also makes it more environmentally friendly to produce and operate. With a range of 125 km or 200 km, the Microlino can travel further than comparable small electric cars before it needs to be recharged. The lithium-ion battery can be charged from any household socket in four or six hours respectively. With a type 2 connector, the battery can be recharged in just one hour – a record time in this industry. Further vehicle details can be found at www.microlino-car.com.
The Microlino is set to cost around €12,000 and is thus less expensive than comparable small electric cars. Nearly two thirds of the advance orders have come from customers in the German-speaking region and Italy. The remaining third come from the USA, the UK, France, and Japan. Oliver and Merlin Ouboter, two brothers from the founder family, are responsible for marketing and sales.
Klaus Dieter Frers and Wim Ouboter, both of whom manage family-owned companies, are investigating further potential areas for collaboration. In particular, in future a supply of vehicle components by the automobile supplier paragon GmbH & Co. KGaA and its subsidiary Voltabox AG might well be an option. Klaus Dieter Frers is not only the sole owner of Artega; he and his family are also the majority shareholders of paragon, a company which develops and produces pioneering solutions in the fields of automobile electronics and electromechanical engineering. Voltabox, a subsidiary of paragon, offers sophisticated and powerful lithium-ion battery systems which are produced modularly and in series.
About Artega
Artega GmbH is a German manufacturer of electric sports cars based in Delbrück. With the current Artega Superelletra sports car project, the company opens a new chapter in e-mobility. The first prototypes for this vehicle will be tested in 2019.
The company history began with the German sports car Artega GT. Introduced in 2007, it still enjoys a positive reputation amongst experts and car enthusiasts. Artega focuses consistently on its goal: intelligent mobility for tomorrow's world.
The owner and CEO of Artega, Klaus Frers, is the great-great-great-grandson of the inventor of the electric car, Christopher Becker. Back in 1835, Becker developed a vehicle which was powered by an electric engine and is regarded today at the first step towards an electric car. Artega pays tribute to this tradition with its focus on e-mobility.
About Micro Mobility Systems AG
Micro Mobility Systems AG develops innovative, urban mobility solutions for children and adults. It aims to contribute to a better urban lifestyle with its products. In 1999, Micro Mobility Systems AG launched their first collapsible scooter. It was a huge success, selling millions. Joint ventures with various international brands have included the development of an e-scooter together with Peugeot and the development of a mobile suitcase with footboard developed in conjunction with Samsonite. Micro Mobility Systems AG was founded in 1996 by Wim Ouboter in Küsnacht near Zurich and has been family-run ever since. The company sells its products in 80 countries and over 6,000 stores.
For information regarding orders please contact:
Micro Mobility Systems AG
Oliver Ouboter
+41 44 913 18 58
oliver.ouboter@micro.ms
www.microlino-car.com
The Artega Scalo Superelletra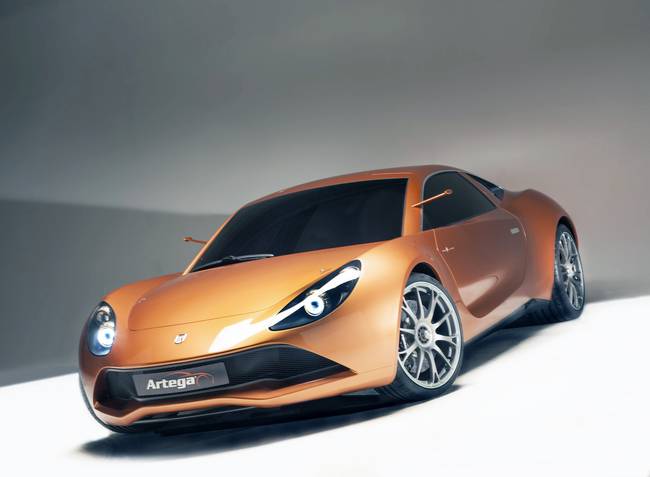 About Artega
According to leading market research institute GfK, Artega is perceived as high quality, of special design and with sporting performance.
These characteristics are fundamental to Artega's designs, which result from the passionate team of inspirational design engineers who have mastered the art of sports car manufacturing. Their customers demand excellent driving dynamics, exclusivity and "something special". In Artega they receive that exclusivity combined with state-of-the-art technology.
The story began in 2009 with the original Artega sports car. A completely new two-seater GT, powered by VW V6 petrol-engine, featuring beautiful lines and dramatic proportions. It won awards for comfort, precise handling and driving pleasure. With its timeless design the Artega GT in on the way becoming a classic.
CEO of Artega, Klaus Frers is the great, great, great grandson of electric vehicle inventor, Christopher Becker, who developed the very first electric vehicle as long ago as 1835. It is consistent, therefore, that Artega has chosen to develop the electric car theme even further.
In 2015 an electric version of the Artega GT was showcased, powered by two rear-mounted high power electric engines. Its name was Scalo, after a winning Westphalian stallion with the same name. This concept car sowed the seed for a further developed model, with much more power, greater performance and even greater range. The target range was 500km.
Pursuing the electric power route Artega has dispensed with petroleum engines and wants to promote the switch to electromobility also in the arena of super sports cars. Consequently, Artega has now sold the know-how, the production facilities, and tools for the Artega GT to US company Saleen, which will build the vehicle with a different engines in China under its own brand.
The focus of Artega is now on producing an exclusive car that embodies great looks, stunning performance, luxury and practicality, for customers with a unique lifestyle. The target is to become the alternative German super sports car maker, offering high performance cars for everyday use, with a car at the very top of its market segment.
With an established skilled workforce in Delbrück (Germany), an international network of experienced suppliers and significant funding from the sale of the GT-assets, Artega will launch the Scalo Superelletra into an enriched world of sports cars.
Welcome Scalo Superelletra, styled by renowned Italian design house, Touring Superleggara. The name "Superelletra" is a play of words - the Italian words for superlight (superleggera) and electric (elettrico).
Pure formula-feeling in three-seater
Artega Scalo Superelletra
Ultimate driving experience – Cockpit encloses the centric sitting driver
Innovation – Novel displays looking like rear mirrors
High Tech – Latest generation curved OLED touch displays
Ergonomics – Suitability for daily use by easy entry and exit